B&B Cleveland Ohio – A Delightful Guest House
A Charming Cleveland B&B, less than 30 miles from Cleveland!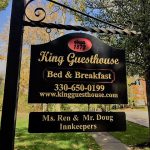 The J.B. King Guest House is conveniently located in Hudson's Historic District just 30 miles South of Cleveland. Built in 1873 and named after its first owner, our guest hour is on the Ohio State Historical Preservation list of Hudson homes designated as historical and cultural assets. In 1980, it was awarded the Hudson Heritage marker authenticating its construction date and history.
If you're looking for a B&B near Cleveland, our charming bed and breakfast is worth the drive.  The hospitality of Ms. Ren and Mr. Doug can not be matched by Air B&B or a chain hotel. They take pride in offering you an authentic bed and breakfast experience. 
The quaint and historical feel spreads across Hudson's Historic District.  Enjoy both casual and upscale dining as well as shopping in the First and Main Shopping District.
Cultural, Museum Center and B&B Cleveland Ohio
Just 30-miles south of Cleveland, our bed and breakfast provide a wonderful stay in Northeast Ohio before exploring the Cleveland area.
Cleveland's flagship is the Rock & Roll Hall of Fame designed by IM Pei. Every year, over nine million visitors make a pilgrimage to Cleveland to attend concerts and admire exhibits that pay tribute to a wide range of artists. As early as the 1950s, when local record store owner Leo Mintz watched the growing popularity of rhythm and blues, he persuaded Alan Freed, the host of a WJW radio classic show, to support the genre with over three hours a week.
Alan Freed is also credited for inventing the term "rock 'n' roll". He was also one of the organizers of the "Moondog Coronation Ball", which is considered the first rock 'n' roll concert ever. However, behind the city's rock 'n' roll legends is an upbeat city that prides itself on never having been mainstream and never wanting to be.
The city's other cultural highlights include the Cleveland Museum of Art, which Business Insider chose as the second-best art museum in the country. The museum can be visited free of charge and shows first-class exhibitions all year round. The Museum of Contemporary Art showcases eye-catching, visionary art in an architecturally interesting building with a mirrored facade, while the 78th Street Studios span several sprawling galleries. Stages from Broadway regularly appear at Playhouse Square, the largest art complex outside of New York City.
The Cleveland Museum of Natural History takes you on a journey through the world and space – with bones from prehistoric times, precious stones and a planetarium.
Children especially love the Greater Cleveland Aquarium, the Great Lakes Science Center and of course the Cleveland Metroparks Zoo. So, if you travel with your kids, then entertaining them in Cleveland will definitely not be an issue.
Those of you interested in history or everything related to the military should head to the USS COD Submarine Memorial. That's where you can see the famous submarine that sank twelve Japanese ships. This has happened during World War II.
Professional and Leisure Sports
There are numerous professional sports teams in Cleveland, such as the Cleveland Indians, Cleveland Browns and the Cleveland Monsters. So, if you are in town for the season, a visit to the stadium is a must. Choose between baseball, football, basketball and hockey.
Do you still have some time for a little trip? Then take a side trip to Canton and visit the Pro Football Hall of Fame. If you don't just want to sit in the stands as a spectator, you can use your own sports equipment to visit one of the 18 parks that belong to the Cleveland Metroparks. They are also referred to as the "Emerald Necklace".
Moreover, the parks cover a total area of ​​approximately 9 thousand hectares. The inn is located 8 miles from the entrance to the Cuyahoga National Park System.   The parks in the area include 100 hiking and biking trails, eight golf courses, five bathing areas, a total of 14 miles of lakeshore and even some toboggan runs.
Trendy Downtown and Nightlife
Cleveland hosts some of the best neighborhoods with numerous restaurants and nightclubs. Make sure to remember University Circle, Tremont, Cleveland Heights, Ohio City, Shaker Square, Little Italy, Collinwood and Detroit-Shoreway.
The colorful Cleveland gastronomic scene includes pierogi stalls, breweries, farmers' markets, as well as innovative fusion cuisine by renowned chefs.
The West Side Market has been in existence since 1912, making it Cleveland's oldest public farmers' market. More than 100 suppliers sell their regional products here – and they are happy to let you try them. Moreover, you can get fantastic, authentic pizzas in the Citizen Pie.
Your stay in the musical city will be really complete with a visit to the House of Blues, Playhouse Square, Severance Hall (home of the Cleveland Orchestra) or the Cleveland Bop Stop.
In the Shaker Square Cinema, you can see a film in a beautiful Art Deco setting. It was designed by John Eberson for Warner Brothers and completed in 1937. The original auditorium, known as the "House of Curves", had 1500 seats.
The Superelectric Flipper Salon is in the heart of Cleveland's Gordon Square Arts neighborhood in the Detroit Shoreway area. The store has bought and restored over 80 vintage games that are available to play alongside the latest editions. So, if you are a fan, you cannot miss it!
J.B. King Guest House Awards
Akron Life and Leisure Magazines awarded J.B. King Guest House the title "Best of the Best" in both 2007 and 2010. Others referred to it as "the bed and breakfast with great personality". Therefore, you have all the reasons to pick your favorite room and book it for your next vacation!
Corporate Activities and Events
The guest house features a high speed (100mb) wireless network for our business travelers. We accommodate small business corporate meetings, retreats and offsite planning sessions. The guest house can be fully booked to accommodate 8-10 business people.