B&B Akron Ohio – The Delightful J.B. King Guest House Just 12 Miles from Akron
A Charming Akron B&B, not an Air B&B or chain hotel!
Innkeepers Ms. Ren and Mr. Doug are the first welcoming faces you see when checking in at the B&B Akron Jeremiah B. King Guest House. They take pride in offering you an authentic bed and breakfast experience that's not even close to that of an Air B&B or a chain hotel. Just imagine sitting in front of a carved Italian marble fireplace after a long day of visiting Akron's various attractions. Or, savoring the famous baked oatmeal while gazing through the building's original, arched windows.
The quaint and historical feel spreads in Hudson's Historic District, as well as in the First and Main Shopping District. Your options don't end here as Northeast communities, such as Akron, Bath, Northfield, Peninsula and others are in Hudson's close proximity.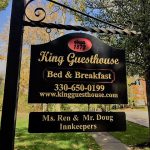 The J.B. King Guest House is conveniently located in Hudson's Historic District. It was built in 1873, not long after David Hudson marked out the lands in 1799. Named after its first owner, you can also find it on the Ohio State Historical Preservation list of Hudson homes designated as historical and cultural assets. In addition, it was awarded the Hudson Heritage marker in 1980 authenticating its construction date and history.
Multiple original architectural and interior design features still apply. Among these, we can count original wood plank floors, rooms characterized by 10-foot ceilings, wood moldings, as well as trim and plaster walls. Wooden shutters are at your convenience when you want to relax away from any distractions. Moreover, the parlor is a delight that retains the first owner's refinement and elegance.
This is not the only room that takes you a step back into the past. Cordelia's Room, Mary's Room and Jeremiah's Room feature either tile floors, wall to wall carpeting or hardwood floors with area rugs. Each room comes with a different décor and facilities.
Modern facilities are tastefully combined with original elements. Every guest room comes with a private bathroom, premium beddings and linens, cable TV, as well as VCR. In addition, you can dwell in further by using complementary bathrobes, hairdryers, and English toiletries. A fast and free wireless connection is included and at your disposal day and night.
Sample Akron-Summit County Attractions and Points of Interest
When you are ready to step out of your comfortable haven, you can enjoy numerous attractions and points of interest. Located just 12 miles north of Akron, J.B. King Guest House is fairly close to interesting museums that you cannot miss. The Akron Art Museum comprises national and international art pieces, some of which are dated back in 1850. Contemporary paintings, sculptures and photography exhibits are waiting for you to admire them.
The inn is located 8 miles from the entrance to the Cuyahoga National Park in Peninsula, Ohio.  Loccated at this point are many hiking trails, bike rentals and a boarding point for the Cuyahoga Valley Scenic Railway.
If you travel with your children, you can take them at Akron Children's Museum, which is a wonderful place for special activities together with your little ones.
A proper night's sleep might get you in the mood to learn how to shape glass. Akron Glass Works welcomes you with hot glass demonstrations and workshops. If you really like what you see, you can become the owner of unique glass pieces.
The Rubber City's 200-year police history can be explored at the Akron Police Museum. That's where you can gaze at old weapons and see how their uniforms changed throughout time. Visiting this museum is a fun activity for the entire family, but maybe not as fun as the zoo.
The Akron Zoo isn't a simple zoo. Only 10 percent of the nation's zoos are awarded with AZA and World Conservation Zoo accreditation. So, prepare to encounter exotic animals and enjoy new exhibits depending on when you visit it. Animals are fascinating creatures that help us return to our roots for a few hours.
On a more serious note, you might be interested in the Center for the History of Psychology. Here you can discover plenty of information about the history of the human sciences. However, Dr. Bob's Home might appeal more to you. This is the place where the AA was founded in the 1930s.
Since B&B Akron Ohio is near most Northeast communities, you can easily travel to Bath for example. That's where you can enjoy a fully different experience. The Hale Farm and Village portrays life in the 19th century. In other words, you can see how blacksmiths and cooks used to work back then, how they were dressed and other interesting particularities.
Cuyahoga Falls invites everyone to Sarah's Vineyard. A place where you can both sip wine and look at art, as well as try different food pairings. However, if such leisure isn't exactly your style, you might want to have a fun Vegas style. That's more than possible and recommended in Northfield, at the MGM Northfield Park.
Other fun activities near the inn are a visit to historic Tallmadge, Ohio or a ride in a hot air balloon over Cleveland, Akron and Canton. Afterward, you can check out flea markets and various shows at Summit County Fairgrounds.
J.B. King Guest House Awards
Numerous 5 star reviews on Google, Trip Advisor and Yelp plus Akron Life and Leisure Magazines award to the J.B. King Guest House as the  "Best of the Best" will ensure that you enjoy your stay.  You have many reasons to pick your favorite room and book it for your next vacation or family gathering!
Corporate Activities and Events
The guest house features a high speed (400mb) wireless network for our business travelers. We accommodate small business corporate meetings, retreats and offsite planning sessions. The guest house can be fully booked to accommodate 8-10 business people.